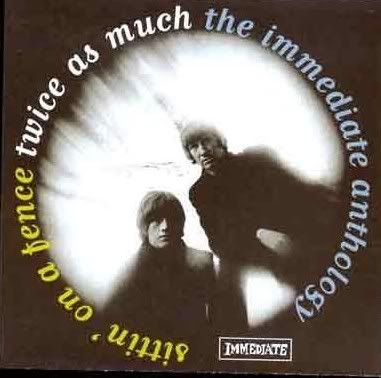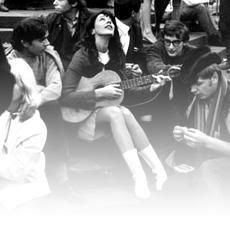 You may remember Tag from such guest Christmas posts as Things Fall Apart and Anorak Christmas . Fortunately for us, he and his good taste are back again this year with another excellent selection.
'The Coldest Night Of The Year' can be found on the Vashti Bunyan comp Some Things Just Stick in Your Mind: Singles and Demos 1964-1967. I can't find a Twice As Much CD still in print that the song appears on, but if you know otherwise, please leave a comment. - Spiked Candy
---
Twice as much were a folk-rock duo signed to Immediate Records in 1966. Despite getting 'the big push' by Andrew Loog Oldham, commercial success remained elusive, although their songwriting skills have found a better reception in Northern Soul and girl group circles. Ironically, their finest hour as performers comes from the pens of the mighty Barry Mann and Cynthia Weill. Vashti Bunyan, meanwhile, needs no introduction from me, in the light of her current (and to me, slightly bewildering) hipness among new folk fashionistas.
This is one of those records to play to friends and watch their faces light up. Adopting a similar call and response theme to "Baby, It's Cold Outside" but replacing its knowing wink-wink-nudge-nudge kitsch with a beautifully understated subtext of barely restrained teenage libido, "The Coldest Night of the Year" comes topped off with a gently cajoling melody and, yes, those all-important sleighbells. The boys forlornly plead with Vashti out of sending them home into the North Wind, and instead 'letting a cuddle appear'. And when you hear Vashti's final, breathless, assent to temptation, it's all you can do not to cheer.
– Tag
Comments (3)
|
Trackbacks (0)
Comments
Display comments as (
Linear
| Threaded)
Hi
Apparently, Jimmy Page also played on this. Check out the link below (not *my* web site, but interesting nonetheless ;)).
Cheers,
Marc (Canada)
Add Comment
Follow

french60spopspikedcandy

Mailing List

Enter your email to be notified of new posts on Spiked Candy. Email address will never be shared and will only be used to send blog updates.
France Gall
1947 - 2018

Click the image for all posts on France Gall dating back to 2005.
Recent tribute posts can be found here.
Vintage French Pop on Twitter
Links

Blogs

Sites & Pages

Artists & Labels

Listening

Music Stores
Statistics

Last entry:

2020-01-27 19:30

952

comments have been left
8tracks recently introduced
changes
that affect listeners outside North America. My tips:
Use the players embedded on this blog rather than listening on 8tracks.com (where the tracks are replaced with Youtube matches, which are often missing, inferior quality or wrong). Embedded players don't seem to be affected for now.
If you still encounter issues, try a VPN, such as Psiphon, Tunnelbear, or Zenmate.
You can also try the alternate listening links if provided.